School of Trades and Technology Menu
RBC Women in Trades Blog
AWiT Graduation February 2015: Finding their TRU Pathway
Posted by on: February 19, 2016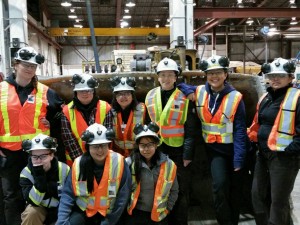 The Aboriginal Women in Trades November 2015 cohort completed their 10-week training on Friday, February 12. They had a chance to explore four different trades including welding, electrical, pipe fitting/steam fitting and construction craft worker. The women were able to complete projects during their introduction to the trades and some projects completed include a garden box, goat feeder, and a treasure chest.
The group of 14, who all started together, were all able to finish the program together, and it was a bittersweet graduation as they all knew it was time to move towards the their chosen trades career.
Here are some words from the students:
"I couldn't have been happier to have been chosen to be in the Women in Trades program. It has been a life goal of mine to be involved in the trades and now I am one step closer thanks to TRU." Vanessa Bent – favorite trade, electrical
"I wish I knew women could get into trades back when I first left school, then I would have entered into trades and would have been financially stable a long time ago. The WiTT is the perfect opportunity for women to try their hand at trades." Roxanne John– favorite trade, plumbing/pipe fitting
"I found welding very empowering! Nothing is as exhilarating as lighting a torch on fire and cutting through solid steel with sparks flying everywhere!" Opal Michelle- favorite trade, weldingTRU congratulates this AWiT Class and wishes them well in their future pathways…which is hopefully in trades!
We are excited to announce the next cohort of Women in Trades started February 15 and 'sparks are already flying' as the students learn and get hands on experience in welding.
Find your TRU pathway into trades. If you are women interested in pursuing trades, but you are unsure of what steps to take next, please do not hesitate to contact us via email witt@tru.ca