School of Trades and Technology Menu
RBC Women in Trades Blog
Lighting the Path to Success
Posted by Meghan on: September 14, 2017
Touting an average of 316 sunny days a year, Kamloops is the perfect place to have a university with a focus on enjoying the sunshine. Park benches on the Thompson Rivers University campus are plentiful, the horticulture gardens attract wedding photos and wildlife alike, and many days students are outside on the grounds studying, playing Frisbee or just enjoying the ample vitamin D. It's no wonder, when you look at the surroundings that Electrician Faculty Amie Schellenberg saw the potential for solar energy projects on campus
A native to Kamloops, Schellenberg started teaching in the Electrical program at TRU in 2012. Approximately two years ago, she was introduced to the concept of solar energy and was hooked.    Amie started working on her first project where she installed a 9-kilowatt solar installation on the roof of the Trades and Technology building. From there the ball has kept consistently rolling.
Since then, Schellenberg has worked in Haida Gwaii on a sustainability project that included connecting rooftop solar panels to piping and a set of nine inverters. Next Amie worked on a dual access solar tracker project in Kamloops followed by the installation of an 88-kilowatt system on the Lower Nicola Indian Band's school rooftop. With each project Schellenberg takes on, her tenacity grows, and she has found herself now a champion for sustainable energy projects in Kamloops.
"It's getting harder and harder to find an argument against sustainable and renewable energy- at this point at this point Solar (Photovoltaic) generation is the most readily deployable and easily scalable viable option for our region; so it's not the only option for renewable energy it's just the easiest to use.", Schellenberg explained.
Thompson Rivers University staffing has encouraged Schellenberg to further her education in the field. Last year she started a program at the Solar Energy International in Colorado. She has nearly completed half of her training to become a solar professional trainer, giving her the ability to train others in the field. It's something she is very grateful for and looks forward to passing her knowledge on to her students.
"TRU is really supportive of renewable energy initiatives; sustainability is part of our strategic priorities;  that says a lot right there. The fact that TRU is willing to send me on training in Colorado, obtain a solar professional trainer certificate, start a renewable energy program here on campus and install all these cool, innovative projects sure demonstrates the support and vision of the University," Schellenberg said. "I'm very grateful."
One of the most recent renewable projects at TRUis a solar compass project. Working in conjunction with the BC Safety Authority as well as project coordinator and professor of Geography Dr. Michael Mehta, Schellenberg has worked on a newly installed solar paneled sidewalk on campus. The sidewalk is first of its kind in North America and is installed in front of the Arts and Education building. The expectation is that the energy sources from the panels will be able to power a portion of the building. The sidewalks are fastened on the ground and can be walked on, driven on and used as any other roadway.  This roadway has the exception of having the ability to utilize power towards sustainability!
Of course, as no location in the world has year round daylight and sunshine, these projects are meant to provide a leg up on existing power and is not a final solution at this point. Schellenberg was quick to point out, "I would be the first to say at this point there is no perfect technology for solar anywhere in the world. Every night gets dark. Every winter the days get shorter. Especially the farther north you go, the greater the need for renewable energy options- especially where they would be used to offset diesel. It's not a solution yet, but it is an affordable step in the right direction."
With each project has come interest from trades students, and Schellenberg welcomes the dialogue.  She has already started to develop a solar energy training program. She was quick to let me know, " I'm working on creating a solar program for trades students and journey people so hopefully by 2019 or 2020 you'll be able to register and become a certified solar installer."
Of course, the opportunity to learn more about, or be a part of renewable energy initiatives in central BC, is not only for trades students.  A year ago Schellenberg found out about an Ontario chapter of Women in Renewable Energy (WIRE) and knew it was something she should bring to BC. Since then Schellenberg has started a central BC chapter in Kamloops with its inaugural meeting happening on September 20, 2017 at Iron Roads Brewing Company here in Kamloops.
When asked about what women can expect from the meeting. Schellenberg doesn't skip a beat in pointing out all the opportunities Schellenberg stated "I think just networking, awareness and to help promote to women that this is a really cool and environmentally supportive way of expanding your knowledge base, especially if you're already in the trades sector. It will be wonderful to have a support group around you and a networking opportunity to connect with other like-minded women.  We will be able to share job and project opportunities and help move renewable energies to the forefront here in the central interior; that would be the real takeaway from this."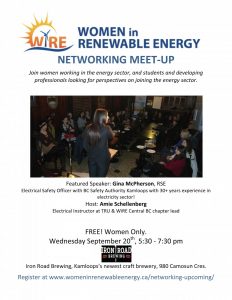 Obviously, the sky is the limit for Schellenberg when it comes to her vision and creation for renewable energy in Kamloops.   With her sense for innovative technology, ability to bring sustainability projects to life and eagerness to bring people together in the name of learning and creating, the future is extremely bright for her. Also, as long as she keeps bringing projects to TRU it looks like the future will be bright for the students as well thanks to renewable energy sources and the support from TRU and it's amazing faculty!