School of Trades and Technology Menu
RBC Women in Trades Blog
Renewing Interest in Solar Energy
Posted by Meghan on: August 10, 2018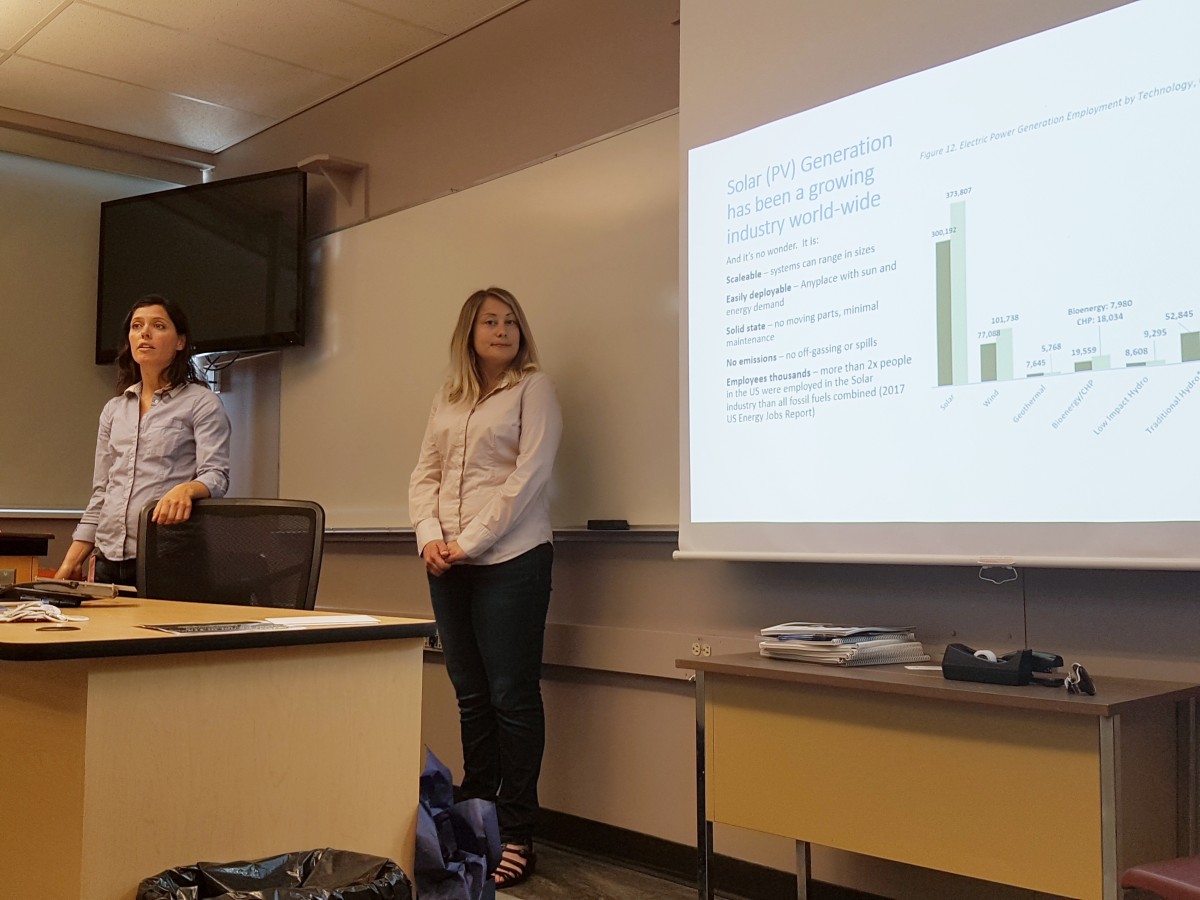 The appeal of learning about solar energy was apparent by the number of students filing into a room on June 21, 2018; to hear Amie Schellenberg of Women in Renewable Energy (WiRE) and Amber Cachelin of Greensleeves Electric Ltd. give a presentation about their experiences in working with solar energy.
Both Schellenberg and Cachelin have experience working in solar energy with Schellenberg pioneering the renewable sidewalk project on the Thompson Rivers University (TRU) campus, which now powers the TRU Sustainability office. As well, Schellenberg is the head for the interior BC Chapter , Women in Renewable Energy (WiRE) hosting meetings and mixers for any woman who may be interested in learning more about renewable energy. Cachelin has worked with local solar installation projects with her company Greensleeves Electric, which has been booming even though still in its infancy stage of business.
The 27 attendees, who represented industrial instrumentation, residential and construction electrical and piping trades all listened intently to Schellenberg and Cachelin. They both spoke with ease as they went through PowerPoint slides with graphs and tables detailing how energy can be outputted through solar panels, as well as breaking down the cost of panels, and of course, the return on investment for adding solar panels to a job site.
With the trades training they have completed, offering students insight into the world of renewable energy sources, the students asked excellent questions, honing in on if it was a viable career option for them to include in their trade. Some seemed interested on a personal level, some on a professional level, but regardless the interest was there throughout the room.
As the time wound down, Schellenberg and Cachelin displayed photos of solar installation projects they've both worked on, held up physical installation materials used in solar energy installations and broke down the process of installing solar panels.
When the session ended many students headed back to class, after collecting the business cards of Schellenberg and Cachelin, and grabbing swag Schellenberg brought on behalf of WiRE. Some women stayed long after crowds cleared out, obviously inspired by their presentation, poise, and confidence in working with solar energy. All students were pleased with the opportunity to learn about new skills, thanks to the RBC Sponsorship.
If the buzz of energy from students at the Solar Energy Lunch and Learn was any indicator, it goes to show the future is bright for those women in trades interested in renewable energy at TRU.