School of Trades and Technology Menu
RBC Women in Trades Blog
Lighting the Way to Success
Posted by Meghan on: April 5, 2022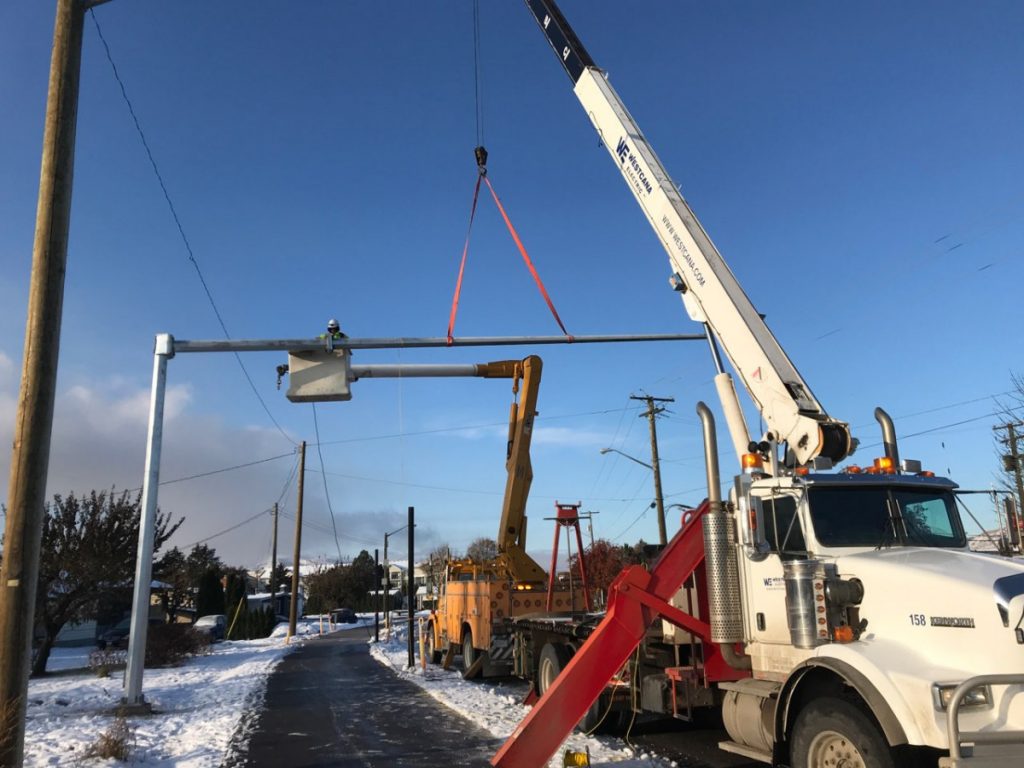 Depending on the trade someone chooses to go into, they can see the product of their skills in moments, minutes, or even years. A stylist may see the product of their labour in one hour, whereas a general contractor may not see their blueprints turned into a useable building for years. Valerie Nicol is one of those tradespeople, but luckily, she does not have to travel too far in time to see the fruition of her efforts. It is visible in her commute to classes on the TRU campus every time she looks up at a streetlight.
An accomplished pastry chef by trade, Valerie originally transferred from Quebec to Alberta to further hone her kitchen skills. She worked everywhere from Edmonton to Jasper as an accomplished baker with ten years of experience. It was at the ten-year mark that her career came to a grinding halt as Nicols developed allergies to flour, nuts, and eggs- all virtually impossible to avoid in the kitchen. Needing a new direction, Valerie came to BC based on the proximity to family and joined the Women in Trades Exploratory program at Thompson Rivers University in 2013.
Valerie completed the exploratory program knowing she wanted to continue into trades education but was unsure which one. She decided to work at a local auto glass business. Although she did enjoy the work, but with no room for advancement at the job, Valerie took the plunge and joined the Electrical Foundation program at TRU in 2017.
While working on her Foundation training, Valerie was awarded one of the first-ever RBC Women in Trades Bursary. The award is determined on academic achievement, participation in class, attendance, and attitude. The RBC WITT award assisted her in continuing in the trades, despite the financial hardships of starting out.
"It made things easier to keep going in the trades and to have a good start. The pre-apprenticeship course is six months; it's a big hit for six months, not getting paid. Coming out of the course and having the bursary encourages you to keep coming back." Valerie stated of being adjudicated the award.
Since coming back, Valerie has, completing her third and fourth year of apprenticeship classes in 2021 and 2022, respectively. Valerie is employed by Westcana Electric, working on everything from in-house jobs to work at the Kamloops water treatment facility and her personal favourite, the wiring and lighting at intersection traffic lights.
Along with working on and gaining electrical skills throughout her apprenticeship, Valerie has acquired other tickets to further herself in the trades. An example of the impact of additional tickets and certifications have opened more doors is demonstrated in how Valerie utilized the airbrakes ticket she gained in the exploratory class, then started working towards her Class 1 driver's license, followed by starting a second apprenticeship, mobile crane operation through the company. Valerie values being a part of a company that pushes her to grow her skill set.
"They pushed me-they think I can't not do anything to the point that I am looking at them and going, 'Do you really think I can do this?' but then my ego takes over, and I'll go 'I'll give it a try and see what happens'. Even when I do make mistakes and am honest and say, 'I'm sorry I did that,' they are not mad at you. They as me if this could be done this way instead? I've never really gotten into trouble for mistakes." Valerie is very grateful of the support from her coworkers and mentors on site.
Of course, being the only woman at many of the job sites she has been at has come with a lot of life lessons and Valerie is eager to share them with potential tradeswomen, and women who may already be in exploratory classes.
"Do not put yourself aside because you are a woman. If there's something to lift, I'm going to try. If it doesn't work, my coworkers are there to help me anyways as not everyone is that strong. Just believe in yourself and keep going. Don't ever knock anything down because you never know when it will be helpful. It might take years, but it will be helpful one day. So, if someone offers you something like a ticket, jump on it.", Valerie offered.
All the extra training and tickets she has gained throughout the years have given her the security she craved when starting out in the trades. By working with a company that has invested in her training she plans to continue working with them well beyond her journeyperson ticket. Although she can see travel and warmer climates on the horizon, she is happy with where she is at in this moment.
"Once I have my journeyperson ticket, I want to get some experience with the company I am working with because of the opportunities they have been giving me. I feel I can grow as a journeyperson and a person (there).," Valerie raved.
With her tenacity, her drive, and her ability to adapt from trade to trade, we have no doubt that the sky is the limit for Valerie in her trades career. In fact, if you look up towards the sky at the traffic lights in Kamloops, you might be able to see Valerie's handiwork yourself.