School of Trades and Technology Menu
RBC Women in Trades Blog
From Cabaret to Culinary Arts
Posted by Meghan on: February 7, 2018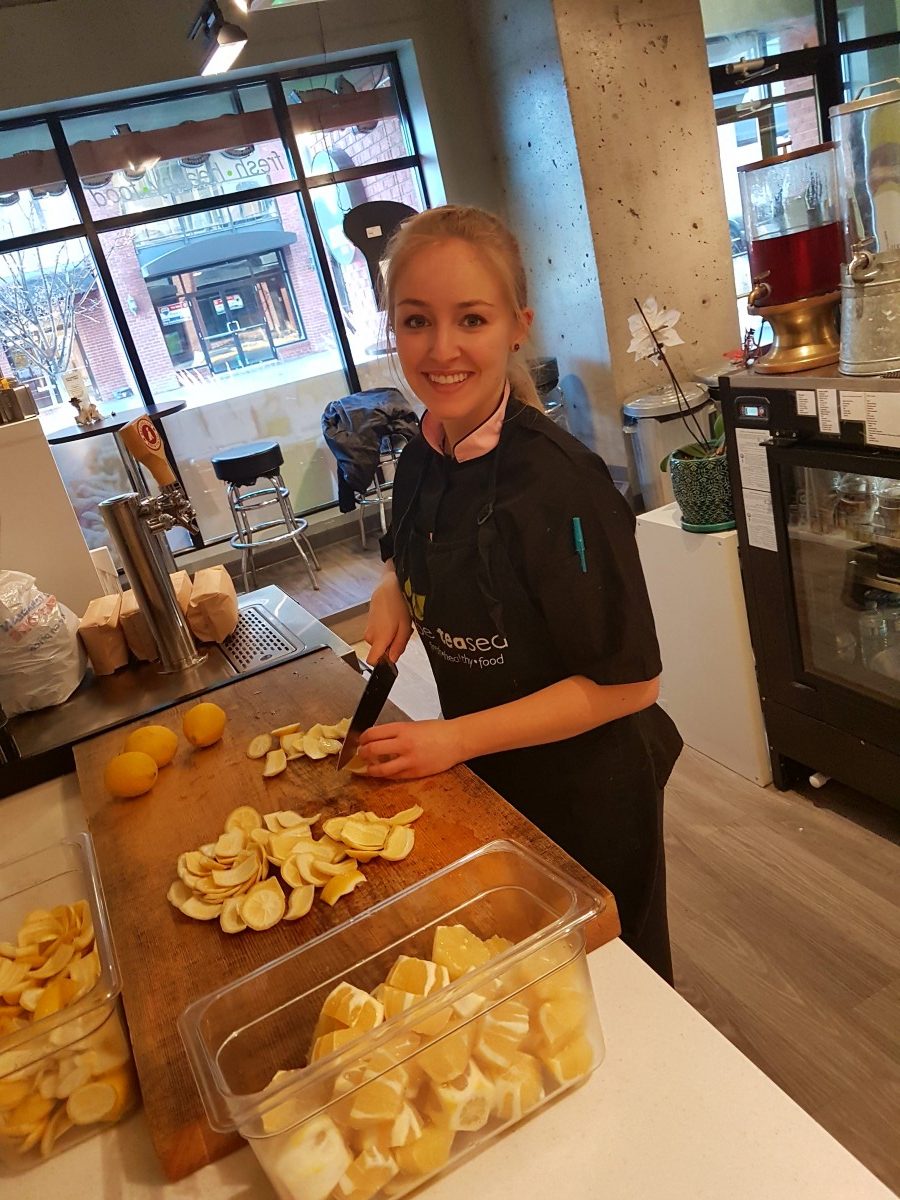 In the world of entertainment, there's a special kind of performer known as a triple threat; where they can sing, they can dance and they can act. Culinary arts student Jessica Webster can do all of these things, and now thanks to her training in trades, she might now be known as a quadruple threat, on and off the stage.
Raised in Kamloops, Webster followed her love of acting and singing to Victoria, BC where she spent two years studying musical theatre. She always had an interest in culinary arts, especially making breakfast and healthy food options, but her love of the arts put her culinary career aspirations on hold. Her training in musical theatre lead to a part in a faith based stage production that went all across the United States. It was an incredibly fun and worthwhile experience, and afterward, she felt the urge to travel before taking the next step in her schooling.
Travelling her way across Europe, she gained life experience, relying on the couches of friends and kindness of strangers. It was the right choice for her as she viewed Mediterranean vistas and beaches, not unlike a dream setting. It was while sitting in a café one day in Monaco when she had an epiphany that she needed, to go to culinary school. Back in Canada a few days later, she enrolled at TRU.
Webster started her culinary arts training in 2016, and will be completing her Professional Cook 3, the highest level of culinary training, in April of 2018. Once she has completed her practicum hours, she will be a Red Seal trained chef.
Much like her travels beforehand, many of the happenings while in the culinary arts program at TRU were serendipitous as she found herself on the receiving end of ITA funding for Women in Trades. The funding helped to finance her schooling and supplies for her first year. The second year she was the recipient of the Derrick Moffat Couer D'or Culinary Arts Award, which helped to finance her second year's tuition. She is actively searching for scholarships to help fund her final year. She has taken advantage of the many bursaries, awards and funding to women in Trades programs at TRU, and it has paid off.
With her friendly smile and outgoing attitude, it's not surprising to see Webster's desires post-school are ambitious and large. "I don't know where this is going to take me, but I know I still have a passion for singing and dancing and acting. I love musical theatre; maybe one day I'll open up a live café that incorporates live music. It is a dream of mine to have a theatre attached as well. "I could host dinner theatre shows at the same time," Webster excitedly spoke of her future plans.
Her aptitude for wanting to help others is evident in the way she speaks of giving back to the community. "Wherever I go, I want to be able to make an impact. I care about others and I want to let people know they are important to this world, and we are here for a reason" Webster said. "Even if it's just serving them some delicious food and seeing a smile on their face. I like to see people happy and enjoying what they are eating."
With her enthusiasm for helping others, it's not a surprise that Webster agreed to be a part of the RBC sponsored mentorship program for students. The program enables current and new students to connect with women who have completed their schooling from the same discipline and are working in industry.
Despite being at the end of her program, this isn't the end of Rowat's educational and career experience. Working at Be TEAsed restaurant (795 McGill Road in Kamloops) doing culinary arts and prep, it's a natural fit for her with the relaxed, friendly environment and focus on healthy, fresh foods. She also knows that getting her Red Seal has opened up a new world of culinary to her and hopes other women recognize the broad spectrum of options available to culinary arts graduates.
"You can travel and work; you can start a food truck, you can start your own things. When you get your Red Seal, you can work anywhere." Webster mused, a matter of factly.
It is clear that wherever her culinary path takes Webster, the spotlight is going to shine brightly upon her.