School of Trades and Technology Menu
RBC Women in Trades Blog
From the Mechanics Shop to the Media Stage and Back Again
Posted by Meghan on: August 29, 2018
When Rebecca Peters agreed to be the valedictorian for the School of Trades and Technology at the June 2018 Graduation ceremony, she was prepared to spend time writing and rehearsing her speech. She was prepared, best she could be, for the large audience in attendance and faculty presence on the day of the ceremony. What she wasn't prepared for was the onset of media attention to follow.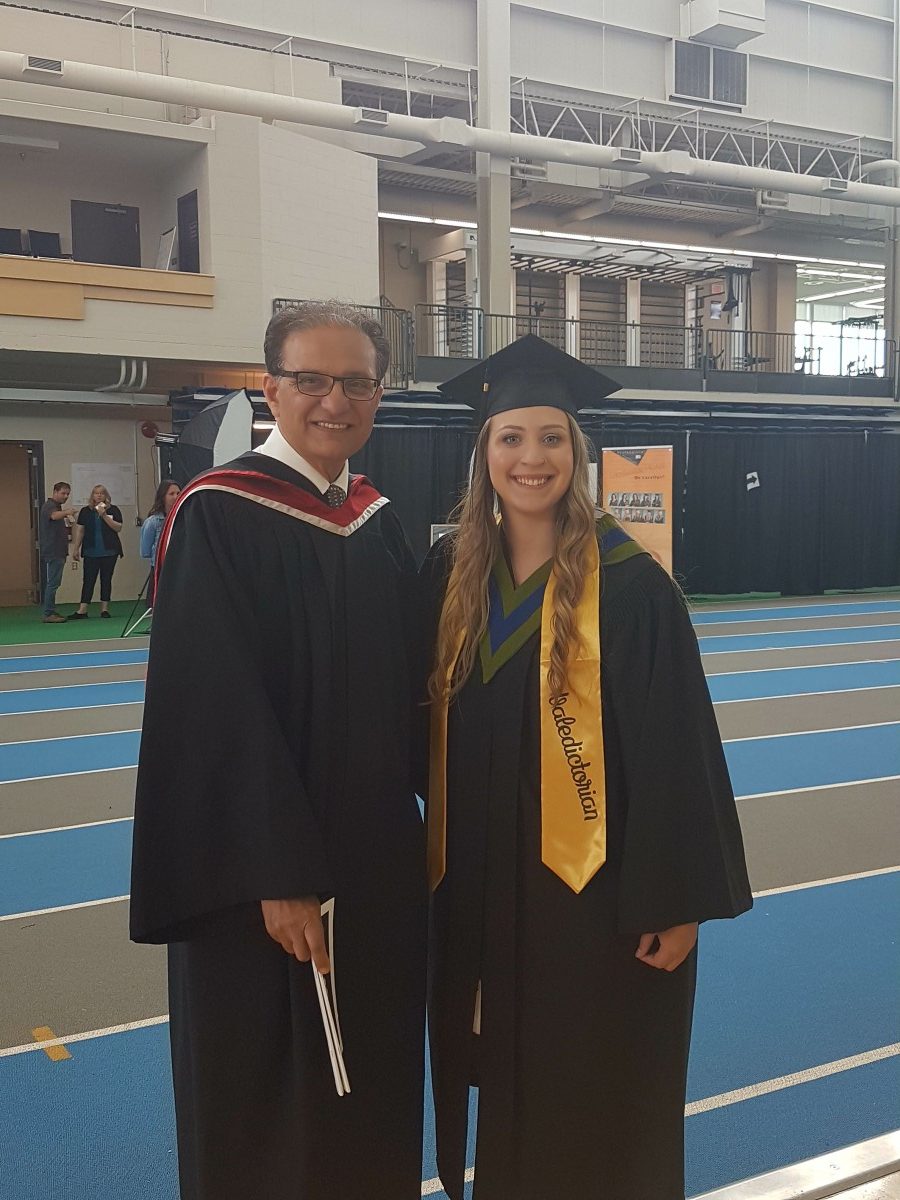 Becca, as she's known in the halls of the trades building, was the obvious choice to be valedictorian As a previous participant of the Women in Trades Exploratory program, she had entered the Heavy Duty Mechanics field in July of 2017 and embraced the hard work with open arms. She always made note to mention the support the Women in Trades program and funding had facilitated along the way and her gratitude for the staff and faculty at TRU. In the months after her program completion, she ended up giving back to the school by helping assist in Heavy Duty training for the Women in Trades Exploratory programs in spring of 2018.
It turns out we weren't the only ones who saw the potential in Peters, as the local media soon caught note of her poise and grace in speaking about her experience of working in trades. The whirlwind of exposure to follow was swift. Peters found herself the subject of multiple news broadcasts, magazine articles, newspaper articles and more all compounded within the weeks around the Graduation ceremony. When she looks back, all she can think about was the chaos of it all.
"It was super overwhelming. There was a lot going on. I was tired." Peters said. She was quick to throw in points of gratitude though, "Honestly it's the coolest feeling that I get to stand up there and represent the school. It's just something I never thought I would do in my entire life and it's something I'm never going to forget."
She also caught the attention of her dream employer, Finning. They already had Peters on their radar after she visited the Kamloops facility in March as part of her volunteer work with the Heavy Duty Exploratory class. They mentioned to her to send in a resume, and after seeing her story on the CFJC broadcast, they let her know they were impressed and wanted to find a place for her at the local Finning branch.
Peters still has the same sense of humbleness and go getter attitude going into her job as she did going into the trades classroom. She knows she still has a lot to learn and can't wait to start.
"I'm really looking forward to how much learning I'm going to do. I've always been someone who understands everyday life is a learning experience, and I love to learn. I'm sure a lot of people there that have a lot they can teach me about mechanics and about working for Finning. I'm probably going to be swimming in information." Peters mused. "I look forward to to starting at the bottom and working my way up. I don't want to be handed anything because I am a woman."
Peters is incredulous that not only did the team at Finning found a place for her but they let her know she's a bit of a groundbreaker there as well.
"So when I was in my interview, they had asked if I had any questions for them and one of my questions was if they have females in the mechanical department and they didn't. They said you would be the first one, so it's pretty cool through everything I have done and how much I've represented women in trades that I'm going to be the first female mechanic hopefully at the Kamloops branch", Peters said of her interview.
When Peters looks back on the past year, she's awe of how the journey has panned out for her. The whole year has gone by in a flash, yet the progression of it is still remarkable to her. Peters quipped, "When I look back to a year ago it was three weeks before I stated my foundation class and now I have a job at Finning. The last year, I feel like I'm growing. Like I'm finally becoming an adult. I just turned twenty two, and I never thought I would be getting my life together this early."
Once again Peters plays down her talents, skills, and abilities in trades and as a person, for when Peters took the stage at the Graduation ceremony in June 2018 to speak confidently of her experience in trades it was apparent to anyone who saw her that she not only had her life together but so much more. In fact, it would be fair to say Peters has her feet planted firstly on the ground, with a wrench in hand. And we're so glad she's been able to represent TRU Women in Trades so well along the way.