School of Trades and Technology Menu
RBC Women in Trades Blog
On the Cutting Edge of Leadership
Posted by Meghan on: February 6, 2020
It was nine years ago when Kaitlyn Clements originally stepped into the hallway of the Culinary Arts building at TRU. The youngest person admitted in her class in the Culinary Arts program, she had impressed the application committee enough for them to open up an extra spot in the class just for her. Still in high school, she was nervous but excited to be able to prove her worth in the classroom. It worked, and by age twenty-one, she had her Culinary Arts Red Seal ticket and was working as a chef in Kamloops.
It was only a few months ago that Clements found herself walking into the Culinary Arts building again, but this time with a different purpose. This time she was there to instruct as to the latest Culinary Arts instructor.
When Clements started the program in 2010, she had been debating going to BCIT to start classes in a different disciple, backed by family members who worried about a lack of successful career options in Culinary Arts, but her love of cooking from a young age steered her towards the kitchen. She powered through all three stages of the Culinary Arts program with quiet determination, surprising instructors along the way who took her quietness as a lack of confidence in the kitchen.
" It was an amazing experience, and I just really wanted to prove to myself I was doing the right thing and prove to others it was the right thing for me, and I did really well,"Clements said.
After gaining experience cooking in a retirement home, a pub, a local ethnic restaurant, and a bakery, she found her culinary home at local hot spot Terra Restaurant. She applauds their focus on ensuring the staff is always learning, trying new culinary experiences, and gaining what they can from those experiences to bring into the kitchen. She also credits the management of Terra Restaurant for their focus on bringing back the experience of dining together as a way for people to come together.
"I always like making people happy, and I find it rewarding when somebody has a really great experience with food. I think food is something that brings a lot of people together, and I think it's great that at least Terra is working towards slow food. It's not fast food; it's not grab and go. You're meant to come in and enjoy yourself and your company. That's really important," Clements mused.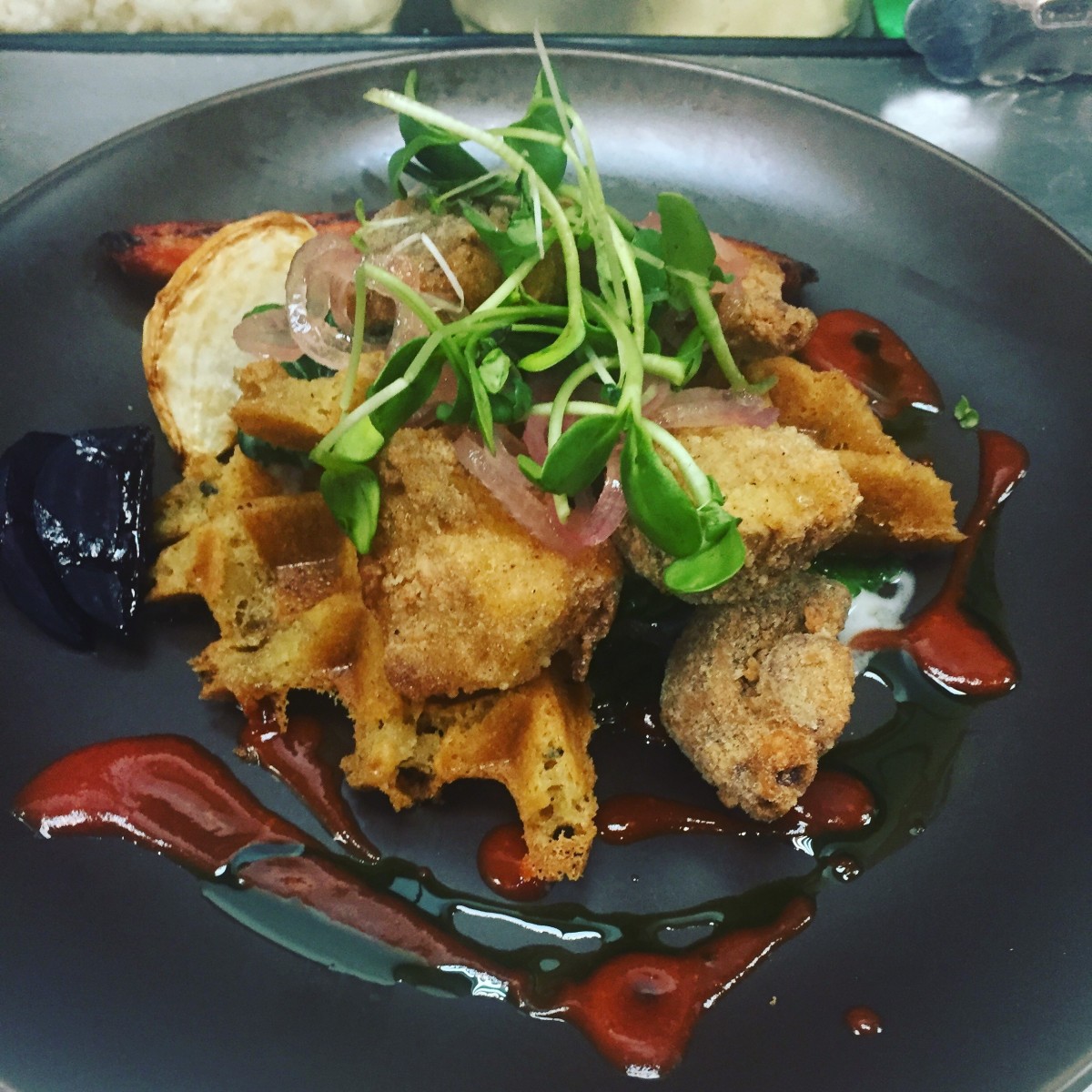 Clements is quick to add that being a professional chef is nothing like what many TV shows depict, "Even if you become a chef, you still have to take out the garbage. You still do the dishes. You still do all the dirty work. It doesn't mean you get out of that. You still do it all. It's not the most glamorous profession. I think it is glamourized by social media and TV shows. It is very stressful, and I don't think people understand how stressful it can be."
It is that stress that can lead to problems with mental health, substance abuse, and burn out, something that has been overlooked in trades in the past, which her employer is working to address.
" I think we're working to be the change in the industry we want to see in the industry. Therefore, we generally don't work long, gross hours. Sometimes we do, but we try to make it pretty even as that's not good for anybody. You can't pour from an empty cup and when you're doing something like what we're doing- constantly creating and trying to be innovative and creating new things and pushing ourselves. If you're overworked, you can't really be doing your best, right? Then you're just pushing mediocre product." Clements explained.
But even with all of her experience in the field, Clements felt she could learn more about being a leader in the industry, so she jumped at the chance to join the TRU Women in Trades group at a leadership conference for the Art of Leadership for Women in June 2018. Thanks to RBC support and funding, she was one of twenty-three women who are able to attend the conference. While at the conference, she became reacquainted with her previous culinary arts instructor Kim Johnstone and they started networking and connecting. It was at that time that she also saw the opportunity for her to utilize leadership skills in her trade.
"It was just amazing to see so many inspiring women, who are so successful in whatever industry they're in, and it just means a lot, especially in my industry it's male-dominated just like every trade, and lots of other industries. It was just great to see so many successful women there, and it pushed me to want to make opportunities for myself." Clements explained. It was what inspired her to apply for the Culinary Arts Instructor job posting at TRU when it came up, despite her young age. " I remember someone telling me 'don't apply for the job you're content with doing, apply for the job that is one step further from where you're at so you can grow.' "
It was that confidence and drive that landed her in front of the classroom at TRU as a relief Culinary Arts instructor. Perseverance paid off, and she was able to assist the students with culinary projects she had worked on herself not so many years before them.
Clements is enjoying working in the industry at Terra Restaurant but would further her teaching experience at TRU if offered the chance. She realizes she has a lot to offer the industry and the students.
" I enjoy explaining things, and I enjoy teaching, and I think I do have some good advice and wisdom that relates to the industry and life," Clements added.
Based on her experience in the field, in front of the class, as a TRU Women in Trades mentor and leader, and her hard work and gumption, we couldn't agree with Clements more.